After a few weeks of off an on work I've finally released the 4th installment in the button prompts series! This one is the best yet, with fully animated joysticks, D-Pads, and a first for the series: Keyboard Prompts! It also comes with 2 fonts: one returning font and one ALL NEW font to use in your games!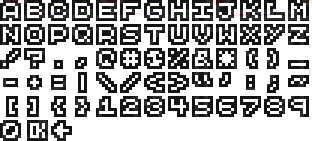 On top of aaaaalllll that, the prompts will be getting update's just like the other packs, but only with your recommendations. Plus, if you purchase in a bundle you can get this pack and 3 others for 30% off!
This pack should prove useful for your game, manual, or even an art piece!
Enjoy,
-Ashton A.
Files
Button Prompts Part 4.aseprite
18 kB
May 16, 2020
Gamepad Prompts.png
14 kB
May 16, 2020
Keyboard Prompts.png
8 kB
May 16, 2020
Get Pixel Button Prompts! (Keyboard/Gamepad)